Instagram in the Time of BookTok
This blog post is to go with a talk I did at the Romantic Novelists' Association Conference on 16 July 2022 about using Instagram as an author. The talk was originally going to take place in July 2020, but of course due to Covid, it didn't go ahead, and then last year the conference was cancelled as well.
Since I first wrote a blog post about Instagram in 2018, it's changed quite a bit. Before Instagram was all about the photos, and then Stories, and now there are Reels too, and Instagram Live has become more popular since Covid.
When I was booked to do this talk back in November 2019, Instagram was growing, but more recently this growth has stagnated, and a lot of social media managers are putting this down to the popularity of TikTok. Many authors, especially those who are self-published are seeing an increase in sales due to BookTok-from their own videos and/or a BookToker raving about their book and the word spreading to other BookTokers.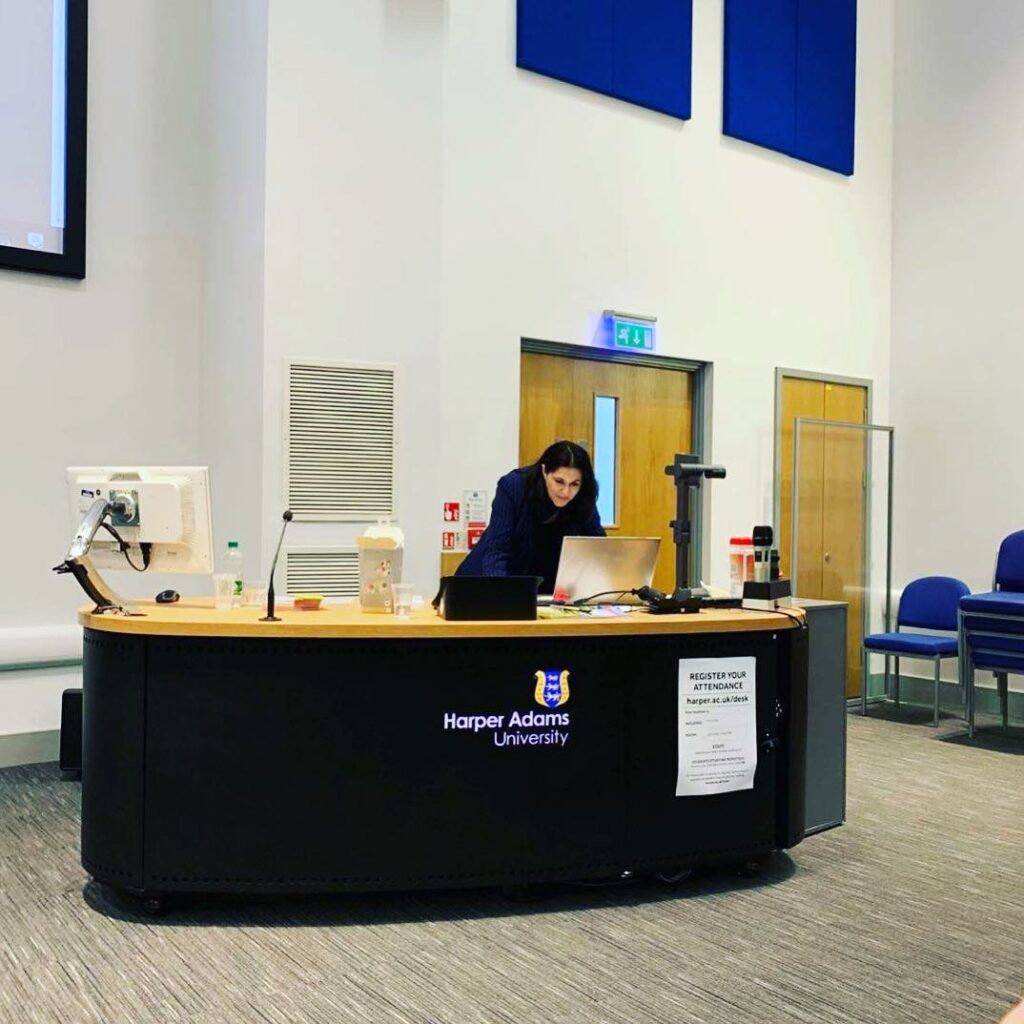 As I'll be self-publishing my own book in March 2023, and have clients who are asking for Tiktok training, I've been feeling the pressure to build a TikTok following myself @neetschapman, and it is time-consuming as well as brain-draining. However, I do find it can be fun and am embracing the challenge to get some attention there. But not everyone wants to talk on video or make videos. There are still a lot of Bookstagrammers who create beautiful photos of books after receiving an ARC (Advance Review Copy), and then review books using an Instagram post before adding the review to Amazon and/or Goodreads as well as NetGalley before publication day (if they receive ARC that way). And there is potential to be successful on Instagram as an author, but it is becoming more like TikTok in order to compete with Reels being pushed out the most with potential to get a lot of views and likes, therefore it makes sense to mix Reels in with photos and Stories, and to do an Instagram Live every now and again with another author to gain followers and increase engagement generally.
I have seen information online recently which indicates the future of TikTok could be uncertain (see Bloomberg article at the end of this post), and I think it's best not to keep all your eggs in one basket social-media-wise. And it's worth remembering the importance of getting sign-ups for your newsletter as this takes away reliance on social media platforms in case any of them disappear overnight which is a possibility.
See a few recent articles about TikTok and the efforts of Meta to compete at the end of this post.
So, in this post I'm going to talk you through how to make the most of Instagram as an author, despite competition from TikTok. If I describe each step that needs to be taken to post a photo, Story, Reel etc, this will be a very long post, so anything that isn't covered here should be explained in the Instagram Help Center. Do take a look for detailed info on how to use Instagram.
What this post will cover
This post will cover Instagram changes-recent and planned, types of account, brand, taking photos, who to follow, bio, the grid, posting photos, Stories, Reels, Insta Live, getting engagement, repurposing content, examples of authors who use Instagram well, Bookstagram, blog tours including Insta, Reels vs TikTok.
Types of Instagram Account
You can have a personal account or professional account. The professional account can either be a creator or business account. If changing to professional, authors would use a creator account. With a professional account you have the option to boost posts/create ads, and see insights. I have recently changed my Instagram account @neetschapman from a personal account to professional-creator account, as I want to look at insights in the run up to my book launch and be able to boost posts/create ads. I have managed Instagram creator accounts for authors, and the option to boost posts/create ads during launch week was helpful.
Brand
Your brand needs to come across in your Instagram content. What are your books about? Which genre? Where are they set? Subjects and themes? Interests where you may find common ground with readers such as baking, gardening, knitting, country houses. And authors are readers. If you read a lot, don't waste that potential content where you can 'connect' with readers by creating a beautiful photo/video of a book and use all the reading hashtags, and support other authors at the same time. Take photos of what you're reading, what you've just finished reading, piles of favourite books, piles of research books etc. There is a lot of easy content potential here. If you go to an author event, take loads of photos and make some video too. If you have a launch or signing, same.
Graphics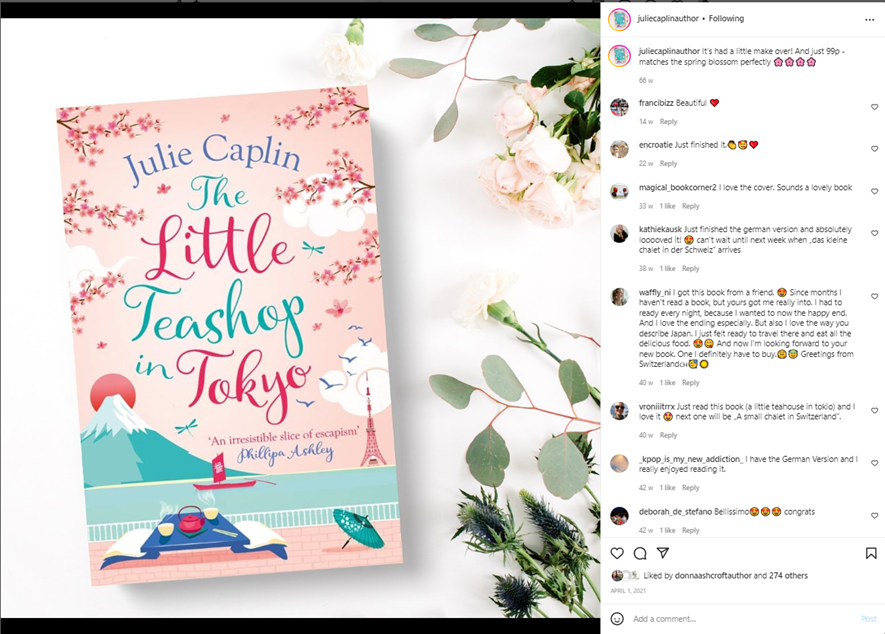 If you're traditionally published, your publisher might send you these before publication day. Otherwise, you can ask a graphic designer to help or design them yourself using Canva/DIY Book Covers, and there are lots of other options out there.
Taking photos and making them look great
Get into the habit, if you're not already of taking photos all of the time, and videos as well, especially if you're out somewhere scenic for the day. Don't forget to edit photos, cropping, brightening and adding a filter if you need to. This makes a real difference. There are rumours that all photos on Instagram will need to be 9:16 size or they'll show up as out of focus, i.e. long rectangular shape which is the same size as a TikTok/Reel. This doesn't seem to be happening yet, but it's worth getting into the habit of taking longer photos rather than square-shaped ones as before.
Who should authors follow?
Bookstagrammers, booksellers, authors, especially those in same genre or with same publishers/agent, and users who fit in with your brand. For example, if your book has lots of cooking in it, follow food-related accounts and interact with them. My books are historical set in English country houses and in Italy, and I follow historical property accounts as well as people who work at country houses, ex-pats who live in Italy, and fans of historical properties etc. Follow book and brand-related hashtags to find new people to follow. More on hashtags below.
Followers/Following, Blocking, Muting words
Following no should always be lower than followers no, but there shouldn't be too huge a difference as this can put people off from following you as they assume you won't follow back.
Block bot accounts. I try to do this regularly otherwise they build up. The reason for this is that having a lot of fake followers can reduce engagement generally on social media-unless your following is huge.
Mute words and phrases such as 'promote it on' using Settings/Privacy/Hidden words/manage custom words and phrases. This will prevent your comments being filled with spam.
Get bio right
As with all social media bios, it's important to get this right and keep it up-to-date because this is how you gain followers. Include usernames of publisher and agent where applicable as well as the genre you write in and any other useful info. I've cross-referenced my Instagram and TikTok accounts and gained followers this way. Include a link to website or a buy link if your book has been released recently. Some users opt for Linktree, but I've read it's better to stick to the link you want someone to click on if you had to choose. It's a personal choice but you can Google 'Linktree SEO' to help make up your mind.
What is a grid?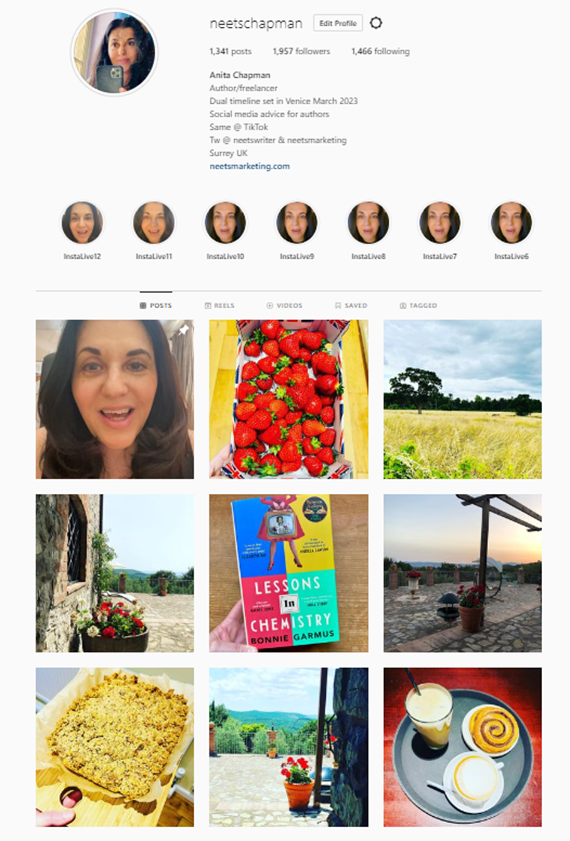 Try to think of your grid as a whole, making it as beautiful as possible. These days it should be a combination of Reels and Photos. Mix scenic with promo with photos of you and events etc.
I have seen some Instagram accounts where the user only shares TikToks as Reels and although they get quite a few views, there isn't much if any engagement on them, so am not sure if this is a good plan.
Pinned posts (recent change)
You can now pin up to three posts on your grid. This has been helpful for me when saving an Instagram Live to my grid afterwards, getting it extra attention from new followers.
Instagram Photos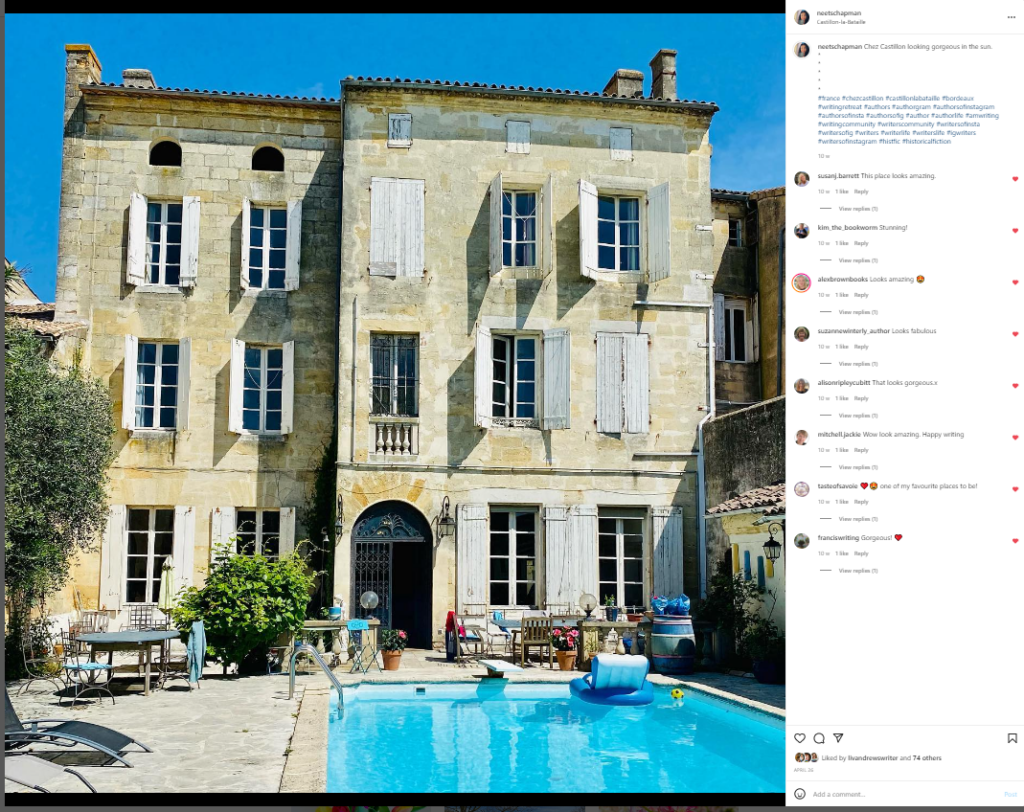 In an Instagram post you should include the following:
Photo, caption (description), hashtags. Add location and tag others where relevant as this will take your post further.
Links aren't clickable in Instagram posts, so there isn't much point in including a link in your caption. But you can put 'Link in bio', and amend that link regularly to what you want it to be, for example a buy link if your book has been recently released.
You can choose to separate hashtags from the caption using asterisks or similar. I use five. This makes the layout look cleaner.
You can share your Instagram photo to Facebook if the accounts are linked. This is easy to do, but you're likely to get more engagement if you go into Facebook and post the photo directly. When I occasionally share an Instagram photo to Facebook, I go in and edit the post, removing asterisks and hashtags, and tag anyone mentioned using their Facebook name rather than Instagram name that has been used.
Carousel (rather than one photo)
You can add a carousel, i.e., a selection of photos from an event such as a book launch. This can work really well.
Hashtags
I find using a minimum of ten hashtags works well, and you can use up to thirty.
Use hashtags relating to what's in a photo such as flowers, day of the week, season and location.
Usually hashtags exist as follows: #word #[word]stagram #[word]ofig #insta[word]. For example: #food #foodstagram #foodofig #instafood. There are more options too.
Take a look at hashtags being used by Bookstagrammers and authors who use Instagram with success. Play around with different combinations. And follow some of these hashtags to find new followers.
Here are a few helpful hashtags for authors. Hashtagify can be helpful too.
Reading: #bookstagram #booksofinstagram #bookstoread #newbook #booklaunch #booksbooksbooks #bookstagrammer #ilovebooks #readinglist #readersofinstagram
Authors: #authors #authorgram #authorsofinstagram #authorsofinsta #authorsofig #author #authorlife
Writing: #amwriting #writingcommunity #writerscommunity #writersofinsta #writersofig #writers #writerslife #writerlife #igwriters #writersofinstagram
When posting about your book, use hashtags relating to your genre such as #historicalfiction #crimefiction #romanticfiction. If you search for one of these hashtags, you'll find posts with other options relating to your genre.
Also include the hashtag with your name and book title when talking about your book so readers can find you when searching. And follow these hashtags too to see who is talking about you and your books.
It's useful to make a list of all hashtags that may apply to you and save them under categories in your phone notes so they can be copied and pasted across to Instagram really easily.
Instagram Story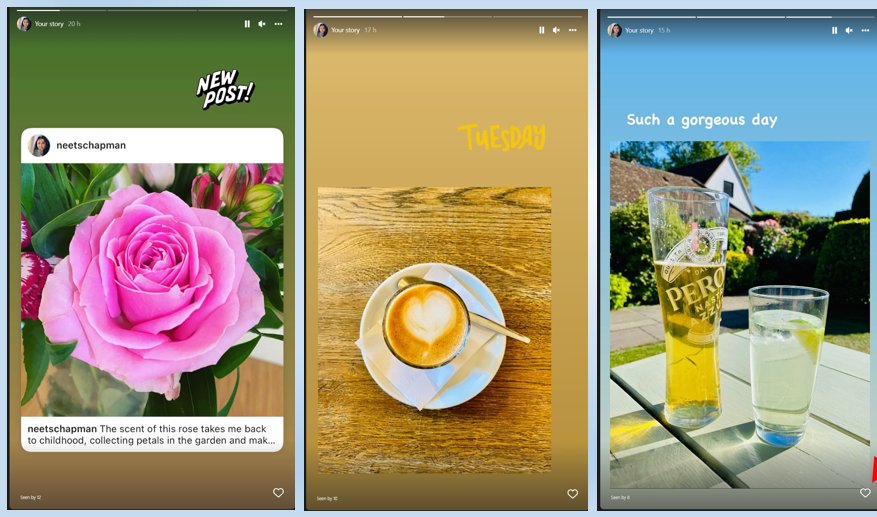 I post Instagram Stories almost daily as they're a quick and easy way to get attention. Stories appear at the top of the feed meaning users you interact with regularly will see them. It's a way to remind followers that you're there and posting regular Stories seems to lead to more engagement overall.
You can add links in Instagram Stories which is useful during launch week or when your book is on special offer.
There are lots of options with Stories. You can post photos and videos of up to a minute which break down into fifteen second clips. You can add captions to videos and use music. There are a lot of fun stickers and effects. You can tag others who are then given the option to share to their Story. You can do a Q&A with your followers, answering with video. A lot of celebrities use Stories daily, and only post to their grid occasionally with the best content relating to an event for example. You can share a new post to Story, or someone else's post tagging them so they then share to their Story. And a recent change is that you can like someone's Story (rather than send them a DM as before), leading to an increase in engagement on Stories.
There's the option to share Instagram Stories to Facebook Stories which I usually do, as it leads to a big increase in engagement.
One advantage of Stories is you can see who has viewed them, therefore are able to find out which followers are interested in seeing your content.
Instagram Reel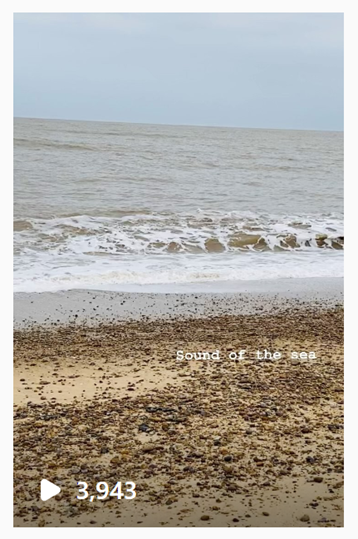 Reels are videos of up to 90 seconds long.
Instagram seems to be pushing these more than other content at the moment in order to compete with TikTok.
Reels that seem to do well on Instagram are scenic from days out/travel and pets.
Instagram Live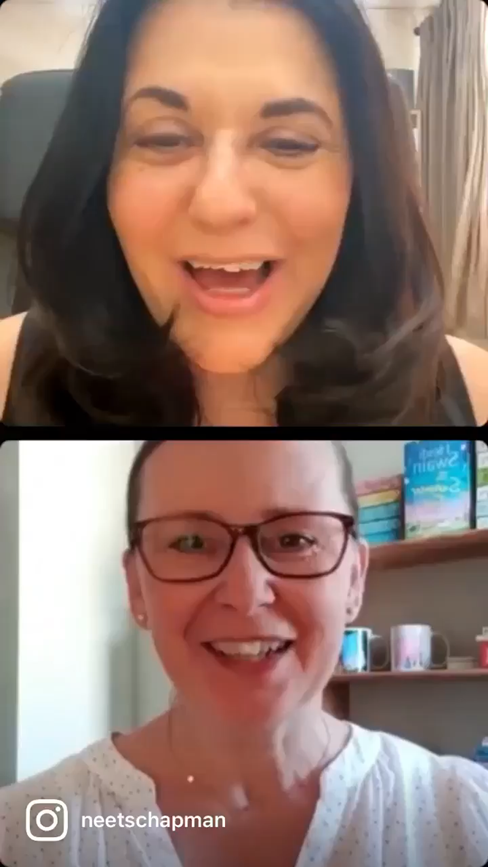 I've been doing Instagram Lives with authors since March 2021, and guests have included Sue Moorcroft, Jules Wake/Julie Caplin, Christina Courtenay, Nicola Cornick, Celia Rees, Liz Fenwick, Heidi Swain, Donna Ashcroft, Anna Belfrage, Claire Dyer, and Kim Nash. I saved them to my grid afterwards, and you can view my Instagram Lives here. They've been a lot of fun, and I highly recommend doing them. It's best to use a ring light and tripod, and to prepare in advance by discussing content with your guest.
Generally, Instagram Lives tend to lead to more engagement afterwards and you and your guest can both gain new followers. My upcoming guests for Autumn/Winter 2022/23 are Alison Morton, Angela Petch, Deborah Carr/Georgina Troy, and Lorraine Mace.
Getting engagement on Instagram
As with all social media, engagement is about posting regularly and interacting with your followers as well as reciprocating likes and comments. If someone comments on your post, always try to find a way to reply as this will make the post go further.
Re-purposing content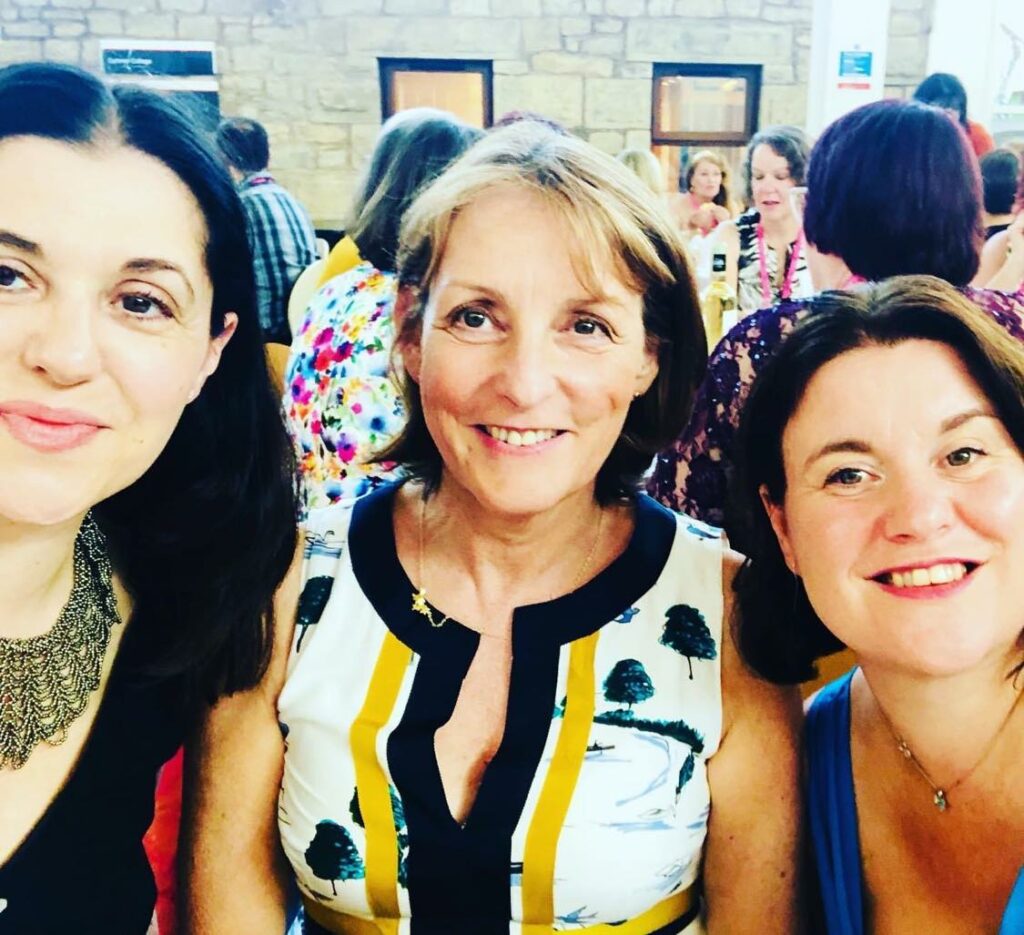 You can get a lot of mileage out of old photos/videos. I use photos from Facebook memories/Instagram Archive all of the time, re-sharing as a post and/or Story. I'm always grateful when a cracking photo comes up from the archives giving me easy content to post that day, especially if am busy with other things. The photo above came up a couple of days before this year's RNA Conference when I was busy finishing off slides for my talk on Instagram for authors, and writing this blog post, which was helpful.
A few authors who use Instagram well
There are many authors who use Instagram well, but here are a few of my favourites:
Jessie Burton, Beth O'Leary, Heidi Swain, Liz Fenwick, Nicola Cornick, Clare Mackintosh, Sarah Pearse.
Bookstagram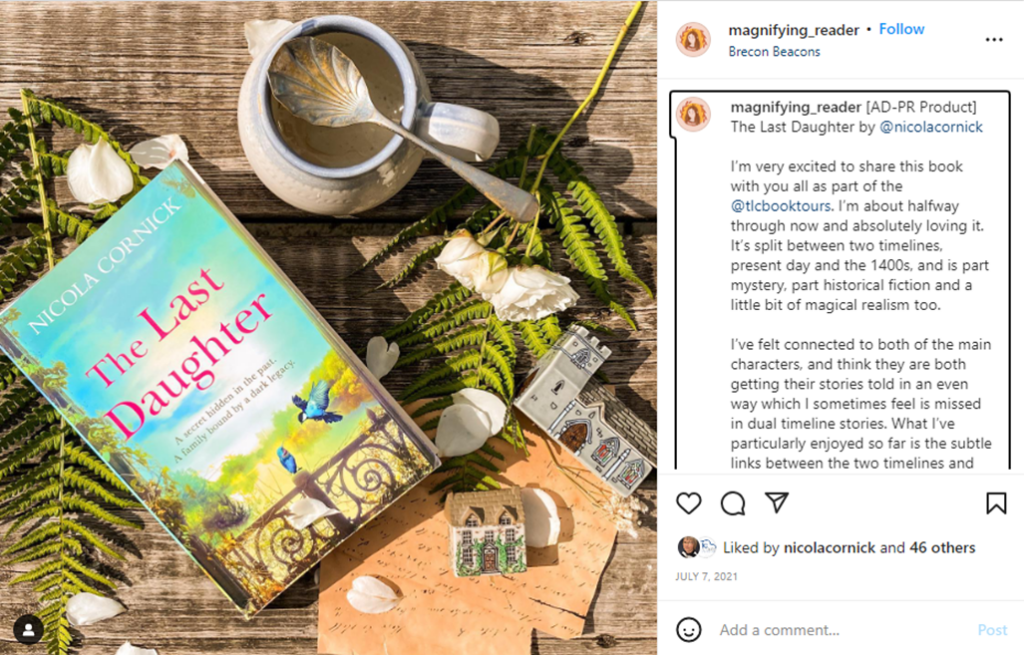 There are a lot of Bookstagrammers who take beautiful photos of books and post reviews directly on Instagram.
Blog tours which include Instagram
If your book is part of a blog tour that includes Instagram, find the bookstagrammers before the tour and follow them.
Make the most of these by liking and commenting on reviews (as long as they're positive-usual on a tour). Share the post to your Instagram Story and add text and stickers.
Instagram Reels vs TikTok
If you do share a TikTok video as an Instagram Reel, it's seen as the done thing to remove the TikTok logo first. You can screen record your Tiktok before uploading and there are also apps enabling you to remove the logo. Do your research on these apps before downloading and paying for them though.
Summary
So that's it for now. While preparing my talk about Instagram for authors at the RNA Conference, I've come to the following conclusion: if you can't beat them, join them, and feel the only way forward as a user of Instagram is to embrace Reels and paid ads.
And yes Instagram is doing everything it can to compete with TikTok, but currently the future of TikTok isn't that certain, and as I said earlier in this post, it's best not to keep all your eggs in one basket social-media-wise.
See links to articles about TikTok and the efforts of Meta to keep up at the end of this post.
Neetsmarketing work
Find out more about working with me via the Work tab of this website. I'm currently taking bookings for Autumn Zoom with Neets. Scroll to the bottom of Work tab to see all the info on this.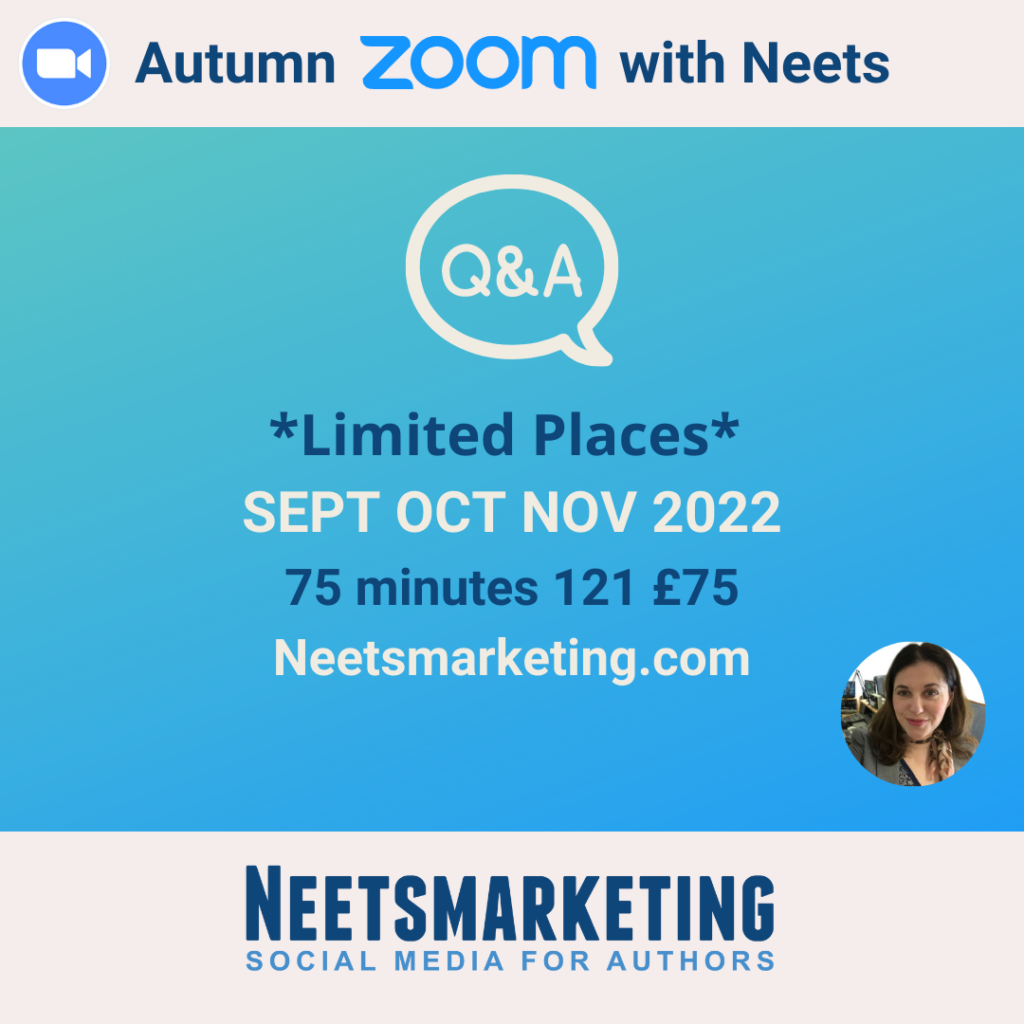 Winner of Instagram photo competition from my RNA Conference talk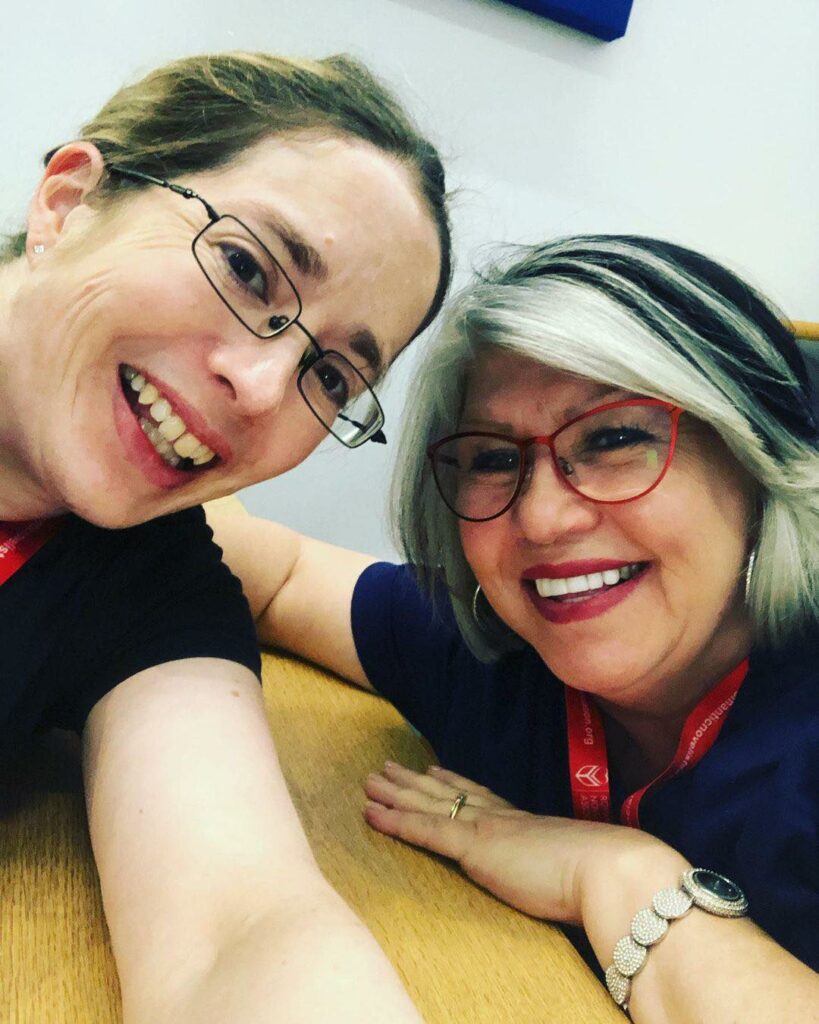 During my talk, there was a competition to post a photo on Instagram that captured the mood of the conference, and the attendee needed to tag me, use location, and do other things to make the post go further. The winner is Emma Bennet @romanceemma with this fantastic selfie of her and Milly Johnson. Congratulations to Emma who wins a box of Hotel Chocolat chocolates.
Subscribe to this blog
More posts coming soon. Subscribe to receive by email.
Subscribe to my newsletter
Subscribe to my newsletter to find out about new client options.
Bedtime reading
And as mentioned at the beginning of this post, here's some bedtime reading about TikTok and Meta's efforts to compete:
The rise of TikTok: why Facebook is worried about the booming social app via The Guardian
TikTok Confirms Some China-Based Employees Can Access US User Data via Bloomberg
Chasing TikTok, Meta rolls out new Reels features and expands Instagram Reels to 90 seconds via TechCrunch
In my previous blog post, How Do Authors Use Social Media Now, there are links to articles about BookTok.