For New Clients
Initial Zoom Call and Social Media Plan:
This includes a two-hour Zoom call and detailed social media plan tailored to the author, varying depending on brand, previous social media experience, and how much support they receive from their publisher, if applicable.
The social media plan will cover Twitter, Facebook, Instagram, and anything the author needs to know about the run up to publication day including info on making the most of blog tours, and more. General info on using TikTok as an author is included, but currently Anita doesn't give tailored advice on this platform (new separate, tailored TikTok Zoom call option coming soon).
Price: starts at £395 (50% payable on booking)*
*This includes the two-hour call, research, and time taken to write up the social media plan at £50 per hour. Price will increase for more than one author name, and if a genre is completely different from what Anita's covered before, for example non-fiction specifying in a particular subject. Anything else out of the ordinary, requiring more time to research and write up would cost more. Get in touch and find out availability to book.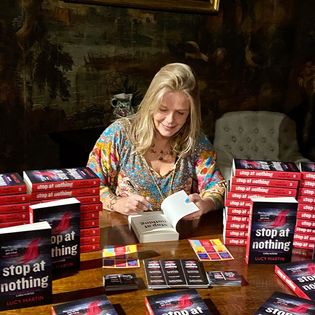 After Initial Zoom Call
Ongoing Support:
Anita can provide ongoing support for clients with ad hoc Zoom calls when needed.
Price: Minimum of one hour, charged at hourly rate of £50.
Social Media Promotion:
Anita manages social media on behalf of a small number of clients during publication week where she updates their Twitter, Facebook Page and Instagram accounts, and generates maximum engagement. For this to be worthwhile for the client, they need to already have a strong network online and a good number of followers, and Anita would only take this work on if she could see it being a good investment for the client.
Also, this work is collaborative with the discussion of ideas in advance as well as quite a lot of contact during publication week. Therefore, Anita and the client would need to have a really strong working relationship.
This would be for a minimum of twenty hours at £50 per hour, and Anita can provide a quote for clients who would like to know more about this.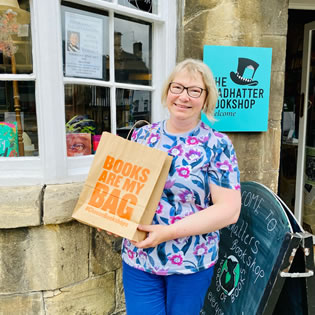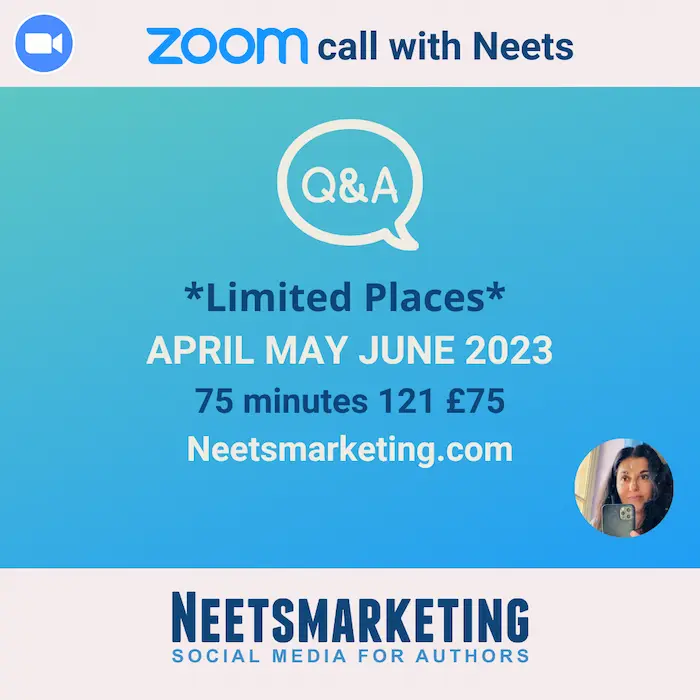 Zoom Call with Neets
Limited number of places for April, May, June 2023:
75-min 121 Q&A Zoom Call
For authors who'd like to ask Anita questions about Twitter, Facebook, Instagram – whatever they're struggling with at the moment. Anita and the author would agree in advance what is to be covered during the call.
What clients said about previous Zoom calls with Neets:
This can include training if for example an author wanted to know how to create an Instagram Story/Reel, or schedule a tweet using Tweetdeck. Anita can give advice on managing social media more effectively, saving time and getting more engagement. Advice on TikTok isn't included, although Anita is planning to launch a separate TikTok Zoom call soon.
Social media accounts would need to be set up before the call. There is no write-up for this, or correspondence afterwards (apart from DMs during business hours with quick questions relating to the call for a reasonable length of time).
Price: £75 (payable on booking). This is based on hourly rate plus research done before the call when Anita looks at social media accounts to be discussed.